Responsible Adventure Travel
Self-guided adventures planned by local experts
We have over 3,300 kilometers of experience in the Alps
Alpenventures UNGUIDED is based near Munich, Germany
Alta Via 1 Planning Guide
Access our

FREE
Alta Via 1
Planning Toolkit
Download GPS Tracks for the Alta Via 1

Get tour statistics, such as distance, elevation gain and elevation loss for the Alta Via 1

Download maps, elevation profiles and turn by turn directions one segment at a time or for the entire tour
Login or create a free member profile:
The Alta Via 1 (AV1) trek is one of the most famous hiking trails in the Dolomites, and it lives up to its promise. Although it doesn't travel through villages like the Tour du Mont Blanc does, the rifugios (mountain huts) you stay at along the way offer up loads of Italian charm and heaps of Italian food. You'll experience brilliant green meadows, rugged monoliths towering overhead, and plenty of World War I history as you pass by former battlefields and fortification remnants.
There are multiple variations to the AV1. There are a couple exposed and sketchy sections along this route (most can be avoided). A via ferrata lies at the very end of the Alta Via I, but our route exits beforehand, as few hikers complete this via ferrata, and it requires carrying via ferrata gear the entire length of the tour. Depending on the exact routing, the AV1 covers 106 kilometers (66 miles) with 6,890 meters (22,605 feet) of ascent. Most hikers take 7 to 13 days to complete the trek, depending on fitness level and preferences.
​
Do the Tour du Alta Via 1 Self-guided. We'll book and arrange all the logistics for you, and you do the tour on your own.
​
The Alta Via 1 is a challenging undertaking. It is beautiful and charming, but with over 800 serviced mountain huts in the Alps, it is not the only hut hiking option. We recommend thoroughly reading the information below to determine if this tour is the best pick for your Alps adventure.
​
Alta Via 1 Cinema
Check out our self-guided trekking tours
We plan and book everything for you!
Is the Alta Via 1 right for me?
---
The Alta Via 1 (AV1) is Italy's highlight long-distance hiking trail. Beginning at Lago di Braies, also known as the Pragser Wildsee, the AV1 winds its way from north to south through sparkling green meadows nestled below towering rock walls. The Alta Via 1 does not pass through any villages, but rather has a multitude of charming mountain huts to stay at along the way, all of them serving heaps of delicious Italian cuisine. ​ The Alta Via 1 is right for you if:
You have 7 to 10 days (depending on your fitness level) to commit to hiking hut to hut
You are fit enough for a daily average elevation gain of 800+ m. (2,600+ ft.) per day for 7 to 10 consecutive days
You love to eat Italian food in large quantities
You can do the tour between mid-July and the end of August
You like having plenty of other hikers around while on the trail
You are interested in staying in remote mountain huts and do not need to travel through a village along the way
​

We recommend choosing a different tour if:
You have less than 7 days to commit
You are looking for a tour before mid-June or after mid-September
You are NOT fit enough for a daily average elevation gain of 800+ m. (2,600+ ft.) per day for 7 to 10 consecutive days
You would like to have your luggage transported or want to stay in private rooms the entire tour
​ We are happy to recommend other hut to hut experiences that may fit your needs better. You can check out our standard self-guided tours on our Trekking Webpage, or contact us with any specific questions or requests. Don't miss our Culinary Delight Hut Hiking Tour or our Tour du Mont Blanc Alternative.
---
Seasons
---
The factor that limits the AV1 hiking season the most is the opening season of the huts. Most huts should be open from mid-June to mid-September. ​ However, snow often remains in the higher elevation areas through the end of June, and can remain into mid-July after a snowy winter. There is a high likelihood of a snowstorm in early September. For this reason, we recommend doing the Alta Via 1 during the time when conditions should be the best, and you won't be stressed about the snowmelt in the days leading up to your hike: mid-July to the end of August. ​ From October through May, the Alta Via 1 should be avoided. ​ For best conditions, we recommend planning the Alta Via 1 between mid-July and the end of August.
---
Weather Forecasts
---
The norwegian website, YR has some of the best weather forecast information for all of Europe - all available in English. We recommend looking up the forecast for Cortina d'Ampezzo, to get a general idea of what the weather forecast will be like in the valley. Mountain-forecast.com is also a great website, and allows toggling between both Imperial and Metric values. Use the mountains, Tofane and Civetta, to identify weather forecasts at varying elevations of your tour. ​ Before you plan, check out these Monthly Averages
---
Getting There
---
There are a couple bus companies that provide direct transportation between the Venice Marco Polo Airport or the Venice Mestre Train Station and Cortina d'Ampezzo. These are Cortina Express and ATVO. Tickets need to be purchased in advance, which you can do easily on their website. From Cortina d'Ampezzo, there are two buses to get to Lag
o di Braies: Bus 445 from Cortina d'Ampezzo to Toblach/Dobbiaco and then Bus 442 from Toblach/Dobbiaco to Lago di Braies/Pragser Wildsee. In Toblach/Dobbiaco, the buses need to be changed at the bus station, which is one stop beyond the train station. Tickets can be purchased with cash upon boarding the bus and the whole ride should cost less than 10€ per person. Timetables can be viewed at www.sii.bz.it. At the end of the tour Dolomitibus Line 1 runs past the La Pissa Bus Stop on its way from Agordo to Belluno. The timetable can be found at www.dolomitibus.it. The La Pissa Bus Stop is not published on the timetable but is rather an on-demand stop. It is located between the La Muda and La Stanga Bus Stops. This timetable is often not available until the 2nd week of June. Also be sure to note the reduced schedule on Sundays. It is also possible to call for a taxi. We recommend Taxi Caio +39 340 39 61 231.
From Belluno, you can return to Venice Mestre Train Station by train. Tickets can be booked at https://www.trenitalia.com/, but we recommend booking these on site at the train station when you are ready to depart, as they are only valid for the exact time you purchase them for. From the Mestre Train Station there are regular buses to Marco Polo Airport. These can be paid for in cash upon boarding.
---
Booking Huts
---
We strongly recommend booking accommodations in advance. October the year prior is not too early, especially if you want as many private rooms as possible, or if you are aiming for a very specific itinerary with shorter days. Unlike the Tour du Mont Blanc, there is not one central website where you can do most of your bookings. You will need to book each hut individually. Thankfully, almost all of the huts on the Alta Via 1 accept reservation requests either directly through their website, or via email. The first couple days of the tour can fill up the fastest, so it makes sense to book your huts in chronological order. When booking your huts, it's important to keep track of which huts you have requested, which kind of room you have booked, which meals are included, how much deposit you have paid (often required via bank transfer), how much you need to pay in cash when you arrive at the hut, the hut's phone number, and keep track of any huts that require a call a certain number of days in advance to confirm your reservaiton. If you would rather use your time for training and packing for the tour, we would be happy to book the huts for you. We can also arrange all your transportation and accommodations from the time you land until the time you depart. Check out our self-guided Alta Via 1 itineraries and packages. We have packages for the budget-conscience and comfort seekers alike. ​
---
Staying in Mountain Huts
---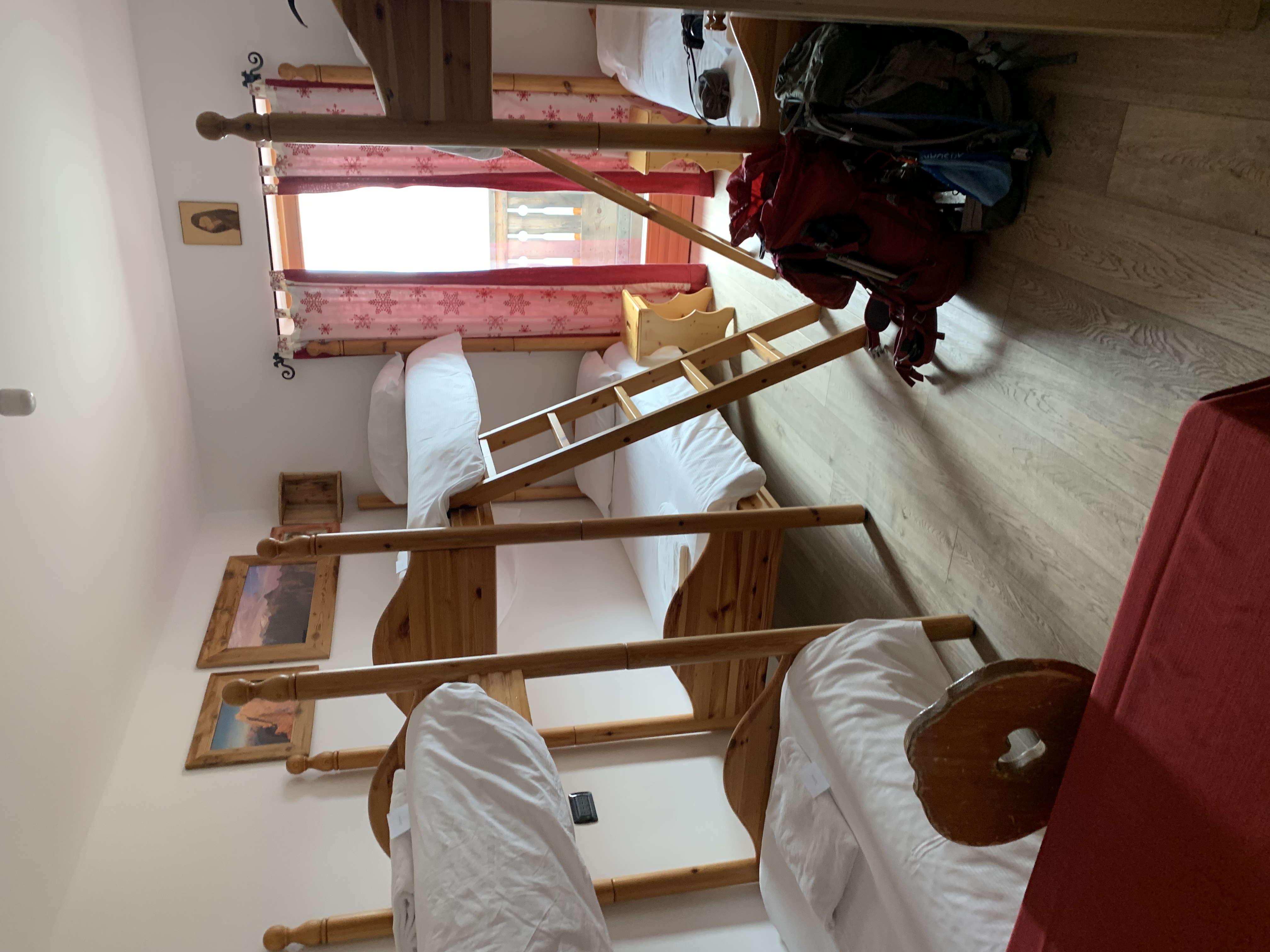 One of the great advantages to the extensive hut system in the Alps, is the opportunity to adventure with a lighter pack. ​ Check out our comprehensive online resource, Staying in Mountain Huts, for all the information you need regarding the hut experience. You can also download our Hut Packing List, or watch our video on Packing for a Hut Hiking Tour in the Alps. We have a FREE recording of our Packing for the Alta Via 1 Webcast available for you on our FREE member page. ​ For more information about staying in mountain huts, check out our Blog Post - The Hut Life, as well as our The Hut Life photo album. If you like food, don't miss our Taste of the Alps photo album.
---
---
Our Alta Via 1 Map recommendations:
Both maps are required to cover the entire trek
Select the image to purchase
Select the image
to purchase