Staying in Mountain Huts in the Alps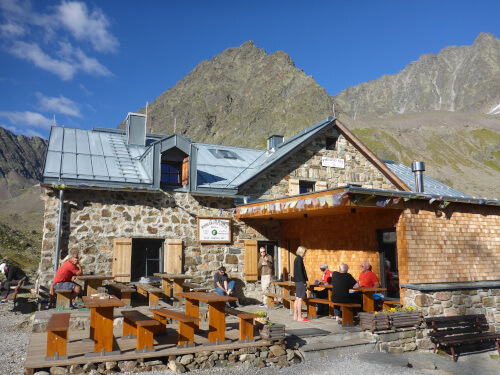 Mountain Huts are the hub for all types of outdoor adventure in the Alps and Dolomites. There are more than 800 huts scattered around the Alps, most run by the local mountain clubs. These huts vary significantly in comfort level, which is largely dependent on their accessibility. Mountain huts are what make tours, such as the Alta Via 1, Tour du Mont Blanc and Bernese Oberland Traverse possible.​
Backcountry camping is illegal throughout most of the Alps, but the extensive network of over 800 huts means you are never far away from a hut. The hut experience is something to embrace while adventuring throughout the Alps. There is a certain enchantment to spending multiple days on the trail, yet enjoying warm prepared meals and a beer in the evening. The joy of doing a multi-day hike or adventure with a lighter pack is certainly something to celebrate as well.
What to Expect at a Mountain Hut
There are many classifications of huts in the Alps, but we send our customers primarily only to the huts that are staffed. The great benefit here is that they have a warm kitchen, and serve delicious prepared food alongside thirst-quenching drinks. Speaking of food, check out our Taste of the Alps photo album to get a better idea of what kind of food to expect. If you want to try making some recipes from the huts in the Alps yourself, check out our A Taste of the Alps Cooking Video Series.​
Before we get too deep into the details of the huts, we should mention that in many countries, the hut managers have a lot of autonomy. The combination of this, and construction history that is so unique to each hut, leaves variation and inconsistencies across the huts. It is important to keep expectations flexible.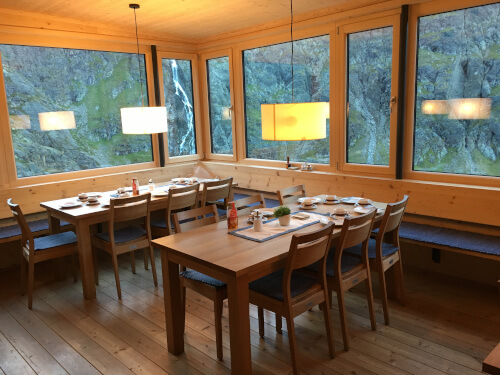 Sleeping Accommodations at Mountain Huts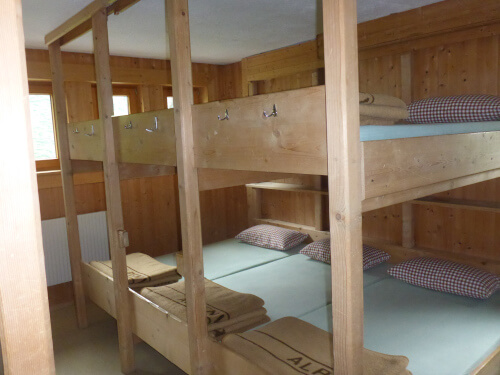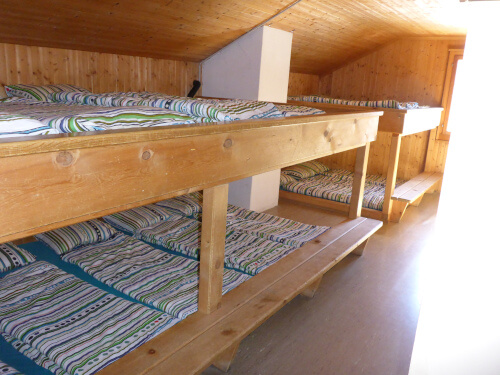 What is very consistent about the huts is that they all provide bedding. That means a mattress with a sheet, pillow, and at least one warm blanket. But here is the catch: this bedding does not get washed between uses. For this reason, all guests are required to bring and use what is referred to as a hut sleeping bag, or a sleeping bag liner. We have learned from experience that some sleeping bag liners are more suited for the huts than others. We go into more detail about selecting your sleeping bag liner in the Packing section below.
​Dormitory-style accommodation is available at almost all huts, and is the least expensive option available. Many huts also provide smaller shared rooms that may have 4, 6, or 8 beds for a higher price, and very few huts provide double rooms. How a "room" is defined varies greatly from hut to hut. Most dormitories have anywhere from 10 to 18 beds in them, but some may have 30. The beds may be bunk beds and separated, or they may be side-by-side with other guests. Dormitories are mixed gender and your international roommates may have a different modesty standard than you do (aka there will likely be people walking around in underwear and changing in the open). A "room" at a hut usually has 4 to 6 beds in it, but it may have 10 or 12. At Alpenventures UNGUIDED, our packages are offered at various price points, and we always strive to match the room selection with the expectations of the package.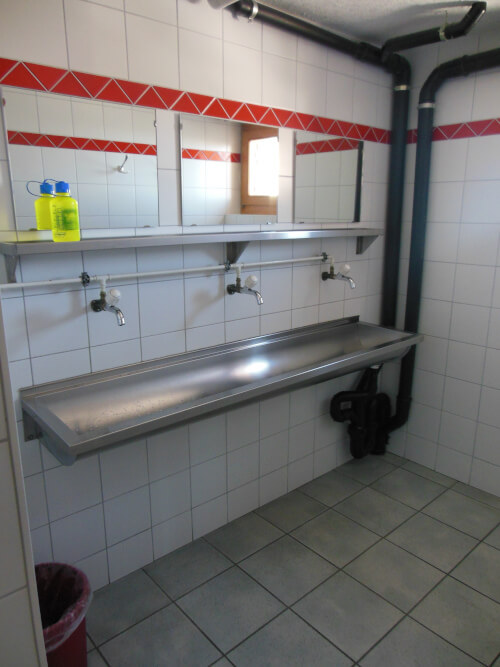 Toilets, Wash Rooms, and Showers at Mountain Huts
There are a few very special huts that offer rooms with their own sanitary facilities, but chances are, that even in an upgraded room, you will be sharing toilets and washrooms with the other guests. The vast majority of huts have ample running water for regular flush toilets, although the availability of warm water is often restricted. The toilets and washrooms are often separate, and there usually will not be a towel or soap in sight. Check out our Packing section below for more information on what to bring.​
Shower facilities vary greatly from hut to hut. The most remote huts do not have any warm water available to guests. They may have a cold-water shower available, or nothing at all. However, warm showers are available at most huts for an additional cost, which is paid by dropping coins or a token into a timer next to the shower. Costs vary, but it usually works out to 1€ per minute. Switzerland is more expensive. Towels, hairdryers, and soap are extremely uncommon.
Shoes at Mountain Huts
Hiking shoes are forbidden by law in the sleeping areas of the huts. Upon entering a hut, the first stop (or second if you make a stop in the dining room) is the pungent shoe room. Trail shoes, hiking poles, crampons, and ice axes should be deposited here. Some huts will provide "hut shoes," usually Crocs, to wear around the hut. Not all huts do a great job at this, so in our Packing section, we recommend bringing your own lightweight shoes to wear around the hut.
Meals at Mountain Huts
In our opinion, this is the highlight of a hut stay! How and when meals are served varies greatly from hut to hut.​
Most huts offer half-pension, which tends to be the most economical option, and includes breakfast and dinner, dinner being a set menu. There is always a vegetarian option available. Some huts also have an a la carte menu to order from, particularly those in Germany and Austria. Switzerland, Italy, and France tend to serve their meals family style, and dinner starts at a specified time. For this reason, we recommend always arriving at the huts by 5:30 pm, and calling if you will be later.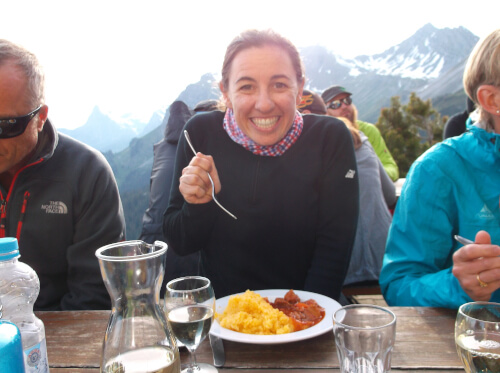 Breakfast can be as simple as bread and butter, or can expand to include meats, cheese, cereal, and yogurt. Most huts will just give you a time range of when breakfast will be available, but some will ask what time each guest would like to eat. Huts that serve as hubs for glacier mountaineering tend to get started earlier than others.​
Many huts provide a lunch packet for an additional cost.​
Vegetarians: There are always vegetarian options available at the huts.
Dietary Restrictions: The huts do try to honor all dietary restrictions, but their ability to do so may vary greatly. Several huts receive their food deliveries by helicopter. Try to be as flexible as your health will allow. If you are coming from overseas, you may find that certain food intolerances that you may have at home, actually aren't an issue for you in Europe. When you book a tour with Alpenventures UNGUIDED, we'll ask you about your dietary restrictions and inform the huts in advance.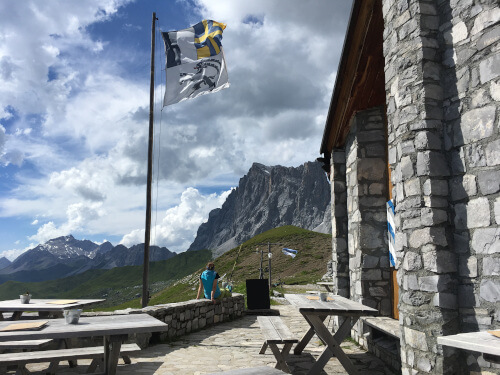 Etiquette at Mountain Huts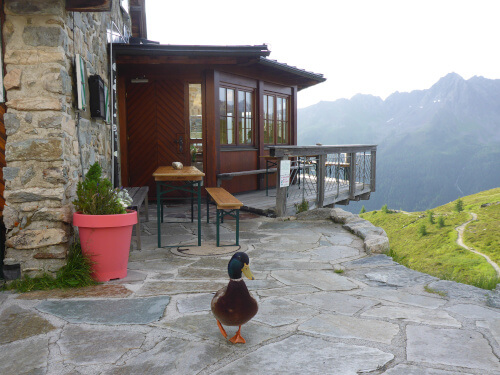 Hiking shoes are to be removed before entering the sleeping area of a hut (there are a couple of exceptions on the Tour du Mont Blanc).​
When sharing a room with strangers, use common courtesy by keeping voices down and avoid turning on the light when people are sleeping. Consider preparing for the night and the next day as much as possible before dinner, and bring a headlamp to dinner, just in case somebody is already in bed when returning from dinner.​
Although many huts may have trash cans available, they still expect you to carry your own trash out. Please do not leave trash at the huts. Many of the huts are only accessed by a strenuous hike or a helicopter, and already face logistic challenges.​
If you are cooking your own meal at the hut, please do so respectfully. At many of the huts that are run by the alpine clubs, the hut manager only earns money off of food and drink sales. Often the overnight fees go to the section of the alpine club that runs the hut. With that in mind, please consider supporting the hut and by at least ordering a drink or two. When cooking, please do so away from the hut and do not use hut resources such as power, hot water, or any water to clean the dishes.​
When leaving the hut, please leave your bed as you found it. This includes folding the blanket exactly how it was when you arrived.
One of the major perks of taking advantage of the extensive mountain hut network in the Alps is pack weight. For those used to carrying full camping equipment with them, a hiking tour in the Alps using the mountain huts is pure luxury.​
While it is great to leave the tent, sleeping pad, and sleeping bag behind; there are a few additional items required for a hut stay, that you may or may not have in your pack for a backpacking trip:​
-Sleeping bag liner - REQUIRED
-Cash in the right currency - REQUIRED
-Slippers or sandals to wear around the hut
-Hand Towel
-Earplugs
-Hand sanitizer and/or soap
Sleeping Bag Liners ("Hut Sleeping Bags")
Unless you are visiting a winter room in a closed hut, a full sleeping bag is likely much more than you will need, or want, in a hut. The sleeping rooms, although rarely heated, often get warm enough throughout the night thanks to the collective body heat of your bunkmates. A sleeping bag liner is; however, absolutely required for all guests, as the sheet, blankets and pillowcases that are provided by the huts are not washed between each use.
​What may be the perfect sleeping bag liner for your ultralight backpacking endeavors, may not be the best fit for the hut. Here are our thoughts on selecting the right sleeping bag liner. Of course, if you already have one, you don't have to go buy a new one. These are just a few things we have learned through experience that we would like to pass along.
Our recommended Sleeping Bag Liner:
This is an affiliate link. When you purchase through this link, I earn a commission at no extra cost to you.
1. Your ultralight, expensive silk liner may just end up with a big tear right at your feet. Sleeping in a bed at the huts, with sheets and blankets, may give your feet a false expectation of freedom. Without your snug mummy sleeping bag to constantly remind you of your confinement, there is a chance your feet might seek that false freedom and kick right through that expensive, ultralight liner. For this reason, we recommend bringing a durable liner along and leaving that ultralight liner intact for future use in your sleeping bag.
​2. Think about the pillow! Do you really want to sleep in other people's drool? There are plenty of wonderful mummy sleeping bag liners out there with a hood for your head, that are fully inadequate at staying in place on the pillow throughout the night. With one of these sleeping bag liners, your cheek will most definitely come in contact with that not-so-clean pillowcase at some point. Our preferred sleeping bag liner (pictured), also known as a "travel sheet" solves that problem with a rectangular pillow pocket, and covers the pillow masterfully, creating a protective barrier between us, and, well, who knows what is on that pillow! An alternative to buying such a sleeping bag liner, is to carry a pillow case, or to have a jacket or other item of clothing you can cover the pillow with at night.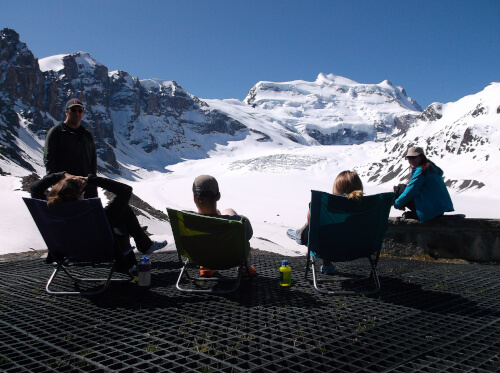 The level of comfort provided at a hut can vary greatly, although there are some similarities and consistencies across all huts belonging to a certain alpine club. Below are some generalizations about the characteristics of huts in the following countries. Please know that even if you are traveling in a country, you may end up in a private hut, or in a hut that does not fit the description below:​
France: Meals at huts in France tend to be served family-style. This means that there is a specific "dinner time," usually at 6:30 pm or 7:00 pm. For this reason, it is important to always plan to arrive at a French hut no later than 6:00 pm. If you will be later, then call so they know to put aside some food for you. If you don't, there may not be anything left for you to eat when you arrive. French huts also usually provide hut shoes, warm showers for a fee and drinking water (even at dinner) for free. Many French huts provide power outlets for charging, but not all.
Switzerland: Switzerland has a lot of private run huts, so be prepared for inconsistencies. In general, dinners at Swiss huts are also served family-style, usually around 6:30 pm. Please plan to arrive no later than 6:00 pm, and call if you are late. Swiss huts also often provide hut shoes. At many Swiss huts, they only have dormitory sleeping rooms available. Drinking water is usually available out of the tap, but showers are not to be expected. Huts run by the Swiss Alpine Club tend to be more basic than other huts, as this hut system was established earlier than many others.​​
Italy: Italian huts excel at providing a charging station for all your gadgets. Sometimes it is only turned on during certain hours of the day (such as dinner time), but you are likely to find a charging station in the dining room. Another characteristic of Italian Huts is that they often do not have "drinking water" available out of the tap, and you may have to purchase bottled water for your next day's hike. Dinners are often served to each person on their own plate, as in a restaurant, rather than family style. You will also likely find hut shoes at an Italian hut.
​​Germany & Austria: These huts are probably the least consistent from hut to hut. Where they really excel is in providing smaller sleeping rooms, sometimes even double rooms, for an extra fee. Dinners are also served restaurant style. The availability of hut shoes, charging stations, and showers varies greatly.
Alpenventures UNGUIDED Cinema