Via Ferrata Safety, Technique and Equipment
Via ferratas are playgrounds perched on the side of vertical rock faces. There are nearly 2,000 of these playgrounds in the Alps, ranging from all levels of difficulty.​
Secured by steel cables and often aided by ladders and steps, via ferratas allow rock climbing fun without the burden of all the climbing gear, and without the stress of lead climbing.
​Experienced climbers, particularly climbers trained to think about falls and force through lead climbing experience, can usually do some independent research and climb via ferratas safely without formal training. However, anybody without climbing experience, or those with very little top-rope experience, should consider taking a course or hiring a guide for their first via ferrata experience.
​If you are a climber, we recommend you watch our Introduction to Via Ferratas to get started.
There are 4 essential pieces of gear required for a via ferrata:​
1. Rock climbing harness​
2. Rock climbing helmet​
3. Gloves to protect from the steel cable​
4. Via ferrata set​
We will not go into detail about the harness or helmet. If you are a climber, you should already own these. If you are not a climber or don't already own these, you really should hire a guide who can equip you for your first via ferrata experience.
Gloves: The gloves are to protect your hands from the steel cable. There are gloves made specifically for via ferratas. These gloves breathe well, grip well, and are half-fingered. However, half-fingered leather rappel gloves work as well.
​Via Ferrata Set: A via ferrata set consists of two lanyards, each with an auto-locking carabiner, and an energy-absorption system. This energy absorption system is critical to keeping you alive in case of a fall. We want to emphasize that doing a via ferrata with static slings instead of a proper via ferrata set can be deadly. Watch this Via Ferrata Accident video for further proof.
​Via ferrata sets have evolved over the last years. The via ferrata sets that are currently on the market are designed for only one fall. But that is okay. As opposed to regular rock climbing, falling is not part of the process on a via ferrata. In fact, it is to be avoided as much as possible. Via ferrata sets are expensive, but they really aren't all that expensive when you put it into perspective. What you risk losing without a via ferrata set makes it worth it. Alpenventures UNGUIDED can arrange for via ferrata set rental for our customers. There were major safety upgrades made to via ferrata sets in 2012. If your via ferrata set was manufactured before 2012, we recommend purchasing a new one.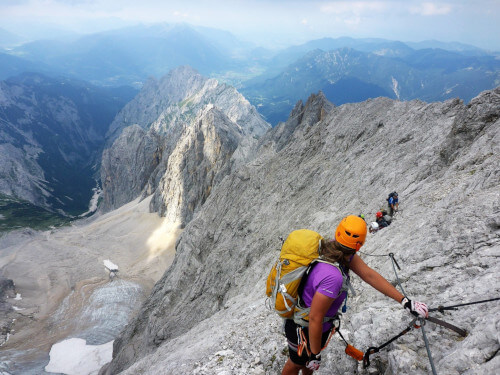 Optional gear:​
1. PAS or sling for resting​
2. Short rope and belay gear​
3. Self-rescue gear (for difficult and overhanging via ferratas)
If you haven't done so already, please watch our Introduction to Via Ferratas video. Here are some of the basics that experienced rock climbers need to know about via ferratas:​
Use a UIAA-approved via ferrata set (static slings can be deadly in case of a fall)

Unclip one carabiner at a time

Clip the carabiners in opposing directions

Clip past the next anchor as soon as you are able to

On vertical sections, keep at least two points of protection between you and the climber in front of you

If you choose to clip in with only one carabiner, do not attach the second carabiner anywhere that will cancel the energy-absorption system (we cover this at 2:40 in our Introduction to Via Ferratas video)

As with rock climbing, move with your arms extended (straight) to preserve muscle strength, rather than bending them

For more via ferrata tips, watch this Via Ferrata for Advanced video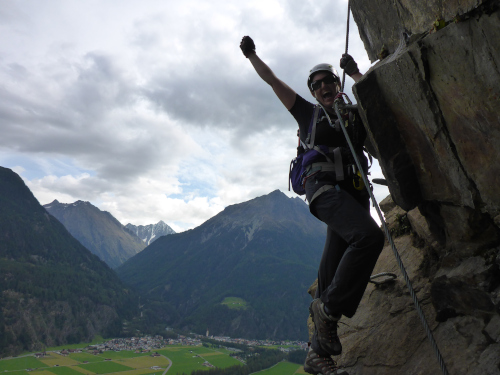 Let's talk about falling. Unlike standard rock climbing, falling is not part of the process of climbing a via ferrata. In fact, modern via ferrata sets are only designed for one fall. These via ferrata sets are intended to keep climbers alive in case of a fall, but injuries are likely. Due to their nature, with aids such as steps and ladders, the risk of falling on most via ferratas is significantly lower than in free climbing. Regardless, climbing a via ferrata safely requires a certain thought process about falling.​
When a climber falls on a vertical section of a via ferrata, they will fall to the last anchor point, plus the length of the lanyards on the via ferrata set, plus the length of the energy absorption system.
The steel cable that runs along a via ferrata provides a sense of security that can often be false. It is important to always analyze the consequences of a fall and how the protection points help to protect that fall.
​What happens if I fall here?
​What happens if another climber falls here?
​We have already mentioned it, but it is important to always have a least two protection points between you and the climber above you on vertical sections. But rather than abiding just by this standard, we encourage critical thinking here. First of all, there may be a point where two protection points is not enough. The point here, is that if the climber does fall, you don't want them falling on you. There may be times when the security points are so close together that three are required between you and the climber above you. There are also times when there can be less. For instance, on horizontal sections it is possible to stay in closer proximity to your climbing partner. Why? Well, if somebody falls, they just fall straight down. There may also be an opportunity to stay closer to your climbing partner on a transition from a horizontal to a vertical section. As long as you are out of the fall line, you are okay.
​Now, what happens if you are standing on a solid spot, and you aren't clipped in, and the climber above you falls onto you? This is a scenario that far too few via ferrata climbers take into consideration. Even if it is easy where you are, if there is a chance that somebody can fall onto you, clip in or get out of the fall line.
There are many different scales that are used to rate via ferrata difficulty. At Alpenventures UNGUIDED, we used the Schall Scale, which is the standard in Austria. ​
If you are an experienced climber, it is important to know that via ferrata difficulty ratings are designed for non-climbers. Or in other words, what is labeled as "medium" may be extremely easy for you.​
In climbing, there is variation from crag to crag in how the difficulty ratings compare to the actual difficulty. This is the same in via ferratas, and we see quite a bit of variation from country to country. In particular, a "C" via ferrata in Italy will likely be more difficult than a "C" via ferrata in Austria, Switzerland, or France.​
A route receives its via ferrata designation as soon as a steel cable is installed. But not every route with a steel cable requires gear. We encourage you to always be prepared with appropriate gear and to make your own decisions, but a via ferrata with an "A" designation may not require gear.​
There are other factors that influence difficulty that may not be highlighted in the official difficulty rating, specifically, the length and elevation gain of the entire tour.
Here is an overview of the Schall Scale, which we translated from bergfreunde.de:
Schall Scale (translated)
Via Ferrata Scale Comparison Chart
Not translated - please refer to the translated version of the Schall Scale above when comparing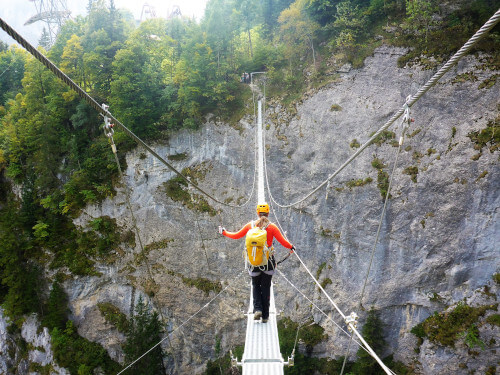 This Nepal Bridge presents little technical difficulty, but requires courage and a tolerance for heights. This is the Muerren Via Ferrata near Interlaken, Switzerland.
If you heard about via ferratas prior to landing on this page, you probably heard about the via ferratas in the Dolomites. What many don't realize, is that there are nearly 2,000 via ferratas throughout the Alps, the majority of them are located outside the Dolomites. Some of our favorite via ferratas happen to be in Austria and in Switzerland.​
Before choosing a via ferrata, it is important to know what you are looking for. Sport climbing and alpine climbing are two very different classifications of rock climbing. Similarly, via ferratas can also be classified into sport via ferratas and alpine via ferratas. You won't see this official designation anywhere. We made it up. But, it fits, and we use it for clarity.​
An alpine via ferrata exists to get people from point A to point B in the mountains. They are often in place on the final push to a summit, or on a spicy ridge traverse. These are the via ferratas that offer the most spectacular photos, and the best views. But, they are also all about business. This means, special "features," such as exciting cable bridges and zip lines are rare on these via ferratas. Also, research the details thoroughly in advance. As soon as a route has a cable installed on it, it is a via ferrata, even if it is 7 hours of hiking and 5 minutes of cable.
A sport via ferrata exists for the joy of climbing a via ferrata. Most sport via ferratas are paid for and maintained by the local community, as a way to entice visitors to their villages. Sport via ferratas often have relatively short approaches and/or returns, which sometimes utilize gondolas, and are built to optimize fun. They offer amazing bridges, like the Nepal Bridge on the Muerren Via Ferrata near Interlaken (pictured above), and sometimes even ziplines. They are often near waterfalls or other mesmerizing natural features, and some are built to be kid-friendly. There is even a via ferrata that touches the famous north face of The Eiger.
Now that we have covered the two different types of via ferratas, let's go back to the Dolomites. The via ferratas in the Dolomites are some of the most famous, primarily due to their role in World War I. Many of these via ferratas are historic, and were built to move troops through the mountains to strategic locations, some even in the winter. If you are going to do via ferratas in the Dolomites, be sure to read about their history beforehand. It is fascinating.
​With the via ferratas in the Dolomites being historic, they also fall more into the alpine category. They are beautiful and spectacular, but lack some of the fun features found on sport via ferratas. If you are looking for a multi-day hut to hut adventure focused completely on via ferratas, the Dolomites are your region (we also offer a via ferrata version of our Hut Hiking Tour in the Bernese Oberland regions of Switzerland). Via ferratas in the Dolomites also tend to be more difficult in comparison to their rating. For example, a C via ferrata in the Dolomites will be more difficult than a C via ferrata in Austria.
Via ferratas in the Dolomites have one distinct disadvantage: they don't have the greatest reputation for maintenance and security as do those in other parts of the Alps. We should emphasize that they are maintained, and we do see crews working on them as well as evidence of recent improvements, but you will come across more issues than you would in Austria, Switzerland, or France. The Dolomites will also offer a few more unprotected scrambling opportunities between cables than will be found in the above-listed countries. We won't go so far as to say that via ferratas in the Dolomites are less safe, but we will say that the perception of security while on the route is less than in some of the other countries.