Alta Via 1 Self Guided Extended Weekend AV1-4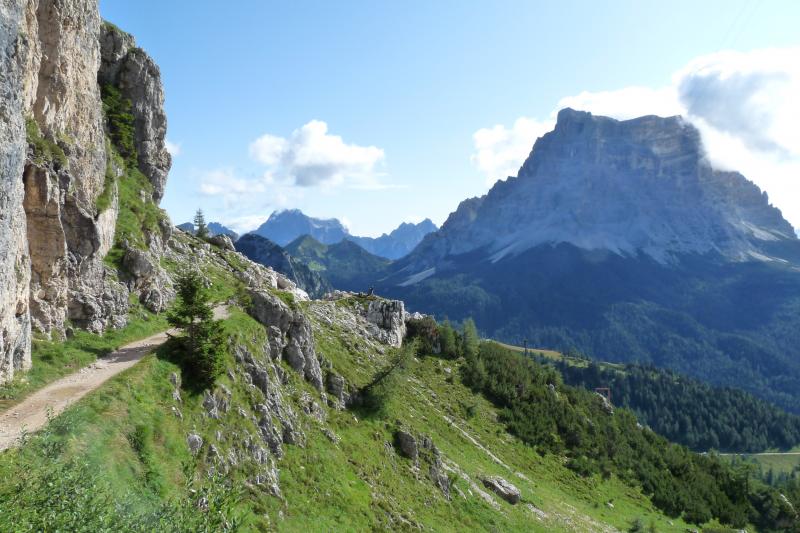 Highlights
GO

hike hut to hut across the Italian Dolomites, which are cherished for their unique beauty and war history

GO

back in time and immerse yourself in World War I history

GO

take alternate routings to enjoy comfortable trails that avoid exposure that is typical on trails throughout the Dolomites and the Alps
The Alta Via 1 is Italy's highlight long-distance hiking trail and leads awe-struck hikers through the Dolomites from north to south. This route is famous, and for very good reason. Along the way are a multitude of comfortable mountain huts. What makes this tour truly stand out is the World War I history, as it passes by former battlefields, fortification remnants, and other clues that this serene environment was not always so peaceful. We recommend doing some reading on World War I history in the Dolomites before the tour, to make it that much more interesting.

This 4-day tour covers only a portion of the Alta Via 1, but visits, what we consider to be the highlights. The tour ends in the Cinque Torri region.

Alta Via 1 – 2023 Booking Update
Updated January 6, 2023

We are successfully booking itineraries for the Alta Via 1. Although the accommodations are filling up earlier than normal this year, we are still booking great itineraries.

Due to the tight booking situation this year, we recommend you book as soon as you are ready.

We can book the best itineraries for customers who provide us with a flexible date range (the bigger the better). If private rooms are a priority for you, a flexible date range of 2 to 4 weeks is best. If you are unable to provide such a wide date range, we do have some alternate accommodations we can use that aren't located directly on the route, but still are not disruptive to your itinerary.

Note: Many books and blogs mention early September as a "less-crowded" time to visit the Alta Via 1. However, for the past two years, the huts have been booked up for September even before they were booked up for July or August. There is currently more availability on the Alta Via 1 in July and August than there is in September. Pushing later into September doesn't bring any advantages, because the huts at the beginning of the route stay full until mid-September and the huts at the end of the route close around September 20th. We currently recommend July and August for Alta Via 1 tours. We discourage June bookings due to likely snow conditions on the route.
Length        4 days
Season        July through early-September

Airport       Airport: Venice, Italy
Physical Condition
Technical Difficulty
Read more about difficulty ratings
Responsible Travel Score:
11/15 Responsible Traveler
(detailed summary available in Tour Documents)
Only 20% payment due at the time of booking!
Included in all packages​
Exclusive access to tours in a navigation app, even when offline
Custom eGuidebook containing maps, daily itinerary, accommodation information and more
GPX File
Carbon offsetting for your tour (1 metric ton per customer)
Optional Airport to Airport full service booking
Booking and logistics assistance during your tour
Unlimited time spent answering your questions
Peace of mind by leaving the planning and booking to local experts
More time for the important things in life
Comfort Package

Almost Luxury
All Prices are Per Person
Classic Package

BEST DEAL
550€ tax included*

Single Occupancy Included
4 days
What's Included:

-3 nights accommodation in rooms** in mountain huts

-3 breakfasts

-2 dinners

All Prices are Per Person
Ultralight Package

Best for Budget Adventurers
500€ tax included*

Single Occupancy Included
4 days
What's Included:

-3 nights accommodation in dormitories in mountain huts

-3 breakfasts

-2 dinners

All Prices are Per Person
*Last-minute booking fees apply when booked less than two months in advance:
Within 2 months of tour start date: 50€ per person
Within 1 month of tour start date: 100€ per person

**The term "room" at a mountain hut varies greatly from hut to hut. These are often shared rooms that are smaller than the dormitories. Rooms book quickly at the huts. When there is no availability, you may end up in the dormitory. Should this happen, we will adjust pricing accordingly.
Airport to Airport Package from Venice Public
+2 days
570€
​
1 night in a simple hotel near Lago di Braies or Venice


1 night in a simple hotel in Cortina d'Ampezzo or Venice


Transportation between Venice and Cortina d'Ampezzo (public transportation)

Note: there are 3 required bus transfers that must be paid in cash on site. We will provide timetables for these
Airport to Airport Package from Venice Private
+2 days
1060€*
​
1 night in a 4-star hotel at Lago di Braies or Venice (based on availability)

1 night in a 4-star hotel in Cortina d'Ampezzo or Venice (based on availability)


Transportation between Venice and Lago di Braies, as well as Cortina d'Ampezzo and Venice (private transportation)
​
+1 day
90€
​
Add on an extra night at a hut included in the itinerary
All prices are per person
*Private transportation packages require a minimum of double occupancy
Not included
-Paper map
-Emergency response and rescue
-Flights
-Beverages
-Any meals not specified
-Sheets at mountain huts (a sleeping bag liner or travel sheet is required: read more)
-Fees for any additional transportation used during the hiking tour, such as lifts, gondolas, and buses
-Some accommodations charge tourist or city taxes that must be paid on site. These rarely exceed 2€ per person per night